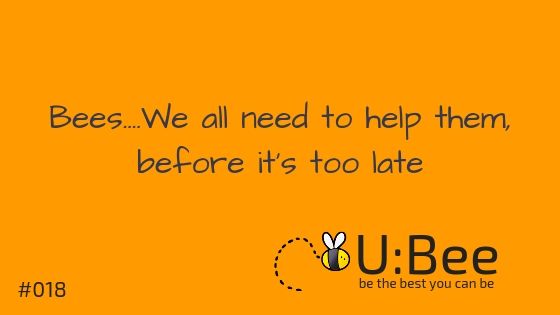 What did you eat this week? Breakfast-jam on your toast? Lunch an apple after your cheese and tomato sandwich? Dinner – pasta with a tomato sauce? Well, you needed bees to be part of all of this! When most people think about bees, they just think about the honey they produce but actually they're behind much of the food we eat, including most fruit and vegetables. Bees are crucial to our economy –the pollinate our crops and without them it would cost UK farmers £1.8 billion a year to use other methods of crop growing. A world without our bees would be a very different place.

There are 267 different species of bees in the UK but many species of bees are declining, with two bumblebee species known to be extinct.
There are around 20.000 species of bees worldwide. Why is our bee population going down? Lots of different things are affecting the bee population but they are also the things that are affecting us too. Some of these are: changes in land use, habitat loss, disease, pesticides, farming practices, pollution, invasive non-native plant and animal species, and climate change. Wow! That all sounds bad for the bees and us. What can we do?
Facts about bees: Bees are able to extract heavy metals and pollutants when producing honey, so they can actually create very clean honey in the city.
Solitary bees are even more efficient pollinators than honey bees. Just one red mason bee can pollinate as much as 120 worker honey bees.
Don't be frightened on bees! Honey bees only sting when they sense danger or to protect the colony. A worker bee dies after it has stung.
Harry Potter fan? Did you know that Professor Dumbledore's name in Harry Potter comes from the Cornish word for bumble bee? Working Together! Honey bee hives have one queen, hundreds of male drones and thousands of female workers cooperating.
What can we do to help bees?
The best way to start is to learn about bees! Understand about bees and how they live and work.
Provide safe places around gardens, schools and parks for bees to live. Find out instructions on how to build a 'bee hotel'! This is not a real hotel! It's a safe and environmentally friendly place for solitary bees to nest. You can make a bee hotel from free resources you can find such as wood and old wooden packaging.
Understand about the effect of pesticides on bees along with other environmental threats and see how you can reduce the impact your lifestyle has on the bee population.
"BEE-FRIENDLY SPACES ARE GOOD FOR BEES AND THE PLANET!"

U:Bee Online is a licensed AAP (Approved Activity Provider) for The Duke of Edinburgh's Award.  Achieve your Bronze Duke of Edinburgh's Award or Silver Duke of Edinburgh's Award by completing the Volunteering, Physical, Expedition and Skills Section of your DofE Programme.    
Looking for DofE skills section activities?  Choose one of the U:Bee Online DofE skills section ideas, to complete your 3 month or 6 month skills section, for your Bronze Award or Silver Award  and receive your Certificate and Assessor's Report. 
Find Skills Section Courses at www.ubee.org.uk