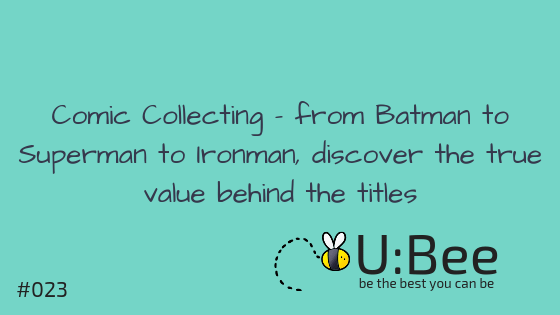 Comic collecting has gone through ups and downs in popularity through the years.
It could have been a hobby that lost millions of followers with the rise of TV and cinema. However that has only added to the appeal of collecting comics.
The first printed comic came onto the market in the USA back in the 1930's.
So where do you get started? Like all collections, some people start them for the love the of subject, while for others it's based on a financial decision.
As a beginner it's often easier to decide to base your collection around a Superhero you like. Start with one set of comics and then build up from there.
Many people start their collections based around the artwork of a particular artist.
You may have heard of some of the most famous illustrators of comics such Stan Lee, Frank Miller or Steven Ditko or do you like a particular TV show or film and want to collect comic featuring that subject (IronMan, Batman or Justice League)
There are thousands of titles so if you narrow it down to one you are interested in to begin with, it will help your collecting skills.
Another top tip from comic collectors is to do your research. You can never know TOO much about comics! This tip applies not just if you want to make a valuable collection but also if you want to enjoy you collection more.
Another top tip is to get involved with the Comic Community. There are lots of people ready to share their knowledge and passion for the comic world at properly organised comic selling events.
So you've collected all these great titles? Make sure you don't put them in a carrier bag under your bed! They might get creased or mouldy or you might spill something on them!
Unfortunately, the worth of a comic is 100% down to it's condition. If it's torn or creased, it's value falls very quickly. Comic shops sell protective sleeves with a stiff cardboard insert in them and this will keep your comic dry and flat. Make sure you don't leave them sitting in the sun as well!
How do you tell if a comic is in good condition? Well, there is a worldwide system of 'comic grading'. Research this on the internet and you'll see how comics can be in 'mint' condition ( the very best) down to 0.1 (the worst with tears and pages missing)!
Happy collecting!
U:Bee Online is a licensed AAP (Approved Activity Provider) for The Duke of Edinburgh's Award.  Achieve your Bronze Duke of Edinburgh's Award or Silver Duke of Edinburgh's Award by completing the Volunteering, Physical, Expedition and Skills Section of your DofE Programme.    
Looking for DofE skills section activities?  Choose one of the U:Bee Online DofE skills section ideas, to complete your 3 month or 6 month skills section, for your Bronze Award or Silver Award and receive your Certificate and Assessor's Report. 
Find Skills Section Courses at www.ubee.org.uk