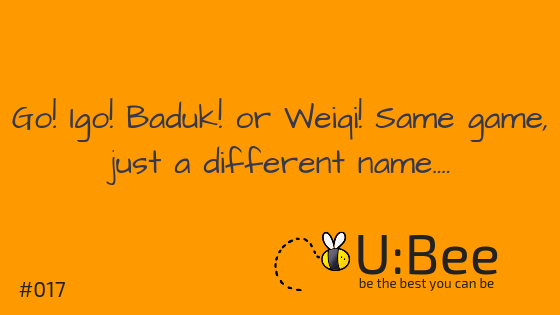 Go is one of the world's great strategy board games and originated over 3,000 years ago in China. It is part of popular culture today in Japan, China and Korea, and known as Igo, Weiqi or Baduk respectively in these countries.
Go is a game for two players with just a few simple rules that is fun for all ages. You start with an empty board and then place pieces alternately, vying to map out more territory. However, if you overstretch, your pieces can be captured and taken off the board.

Go is one of the oldest board games in the world. Its true origins are unknown, though it almost certainly originated in China some 3,000-4,000 years ago. In the absence of facts about the origin of the game there are various myths: for example that the legendary Emperor Yao invented Go to enlighten his son, Dan Zhu.
Go spread from China, through Korea to Japan and the game has been played at a high level in these countries for more than 1000 years. It eventually spread to Europe at the end of the 19th Century and started be played in Britain at the start of the 20th. In the last half of the 20th Century Go became organised in Europe, Britain, America and around the world; slowly Go in these areas is catching up the three oriental countries where the game has been played professionally for many years. Go has very simple rules and concepts, but a complex strategy. You start with an empty board. You alternately place pieces which don't move (called stones) on it. You try to surround empty areas, whilst capturing your opponent's stones by surrounding them and taking them off the board. However, as with a lot of simple concepts, it can take a little while to grasp the concepts and a long time to master them.
A game of Go starts with an empty board. Each player has an effectively unlimited supply of pieces (called stones), one taking the black stones, the other taking white. The main object of the game is to use your stones to form territories by surrounding vacant areas of the board. It is also possible to capture your opponent's stones by completely surrounding them.
Players take turns, placing one of their stones on a vacant point at each turn, with Black playing first. Note that stones are placed on the intersections of the lines rather than in the squares and once played stones are not moved. However they may be captured, in which case they are removed from the board, and kept by the capturing player as prisoners.

Like most games in the world, there are now online versions where you can practice your skills or play competitively with players from around the world.
In Asia, where most of the leading experts in Go live, they are treated like VIP celebrities and earn big money prizes playing in televised tournaments.
If you'd like to find out more about Go and how you can start playing, read more from The British Go Association
U:Bee Online is a licensed AAP (Approved Activity Provider) for The Duke of Edinburgh's Award. Achieve your Bronze Duke of Edinburgh's Award or Silver Duke of Edinburgh's Award by completing the Volunteering, Physical, Expedition and Skills Section of your DofE Programme.
Looking for DofE skills section activities? Choose one of the U:Bee Online DofE skills section ideas, to complete your 3 month or 6 month skills section, for your Bronze Award or Silver Award and receive your Certificate and Assessor's Report.
Find Skills Section Courses at www.ubee.org.uk